WHAT IS A PINTER?
The Pinter [Pint-er]: precision-engineered technology for anyone to enjoy 10 pints of award-winning Fresh Beer at home. Brewed by you, designed to share.
Take the Pinter, add the handcrafted Fresh Press, fill with water and brew. Add to the fridge for conditioning and in just a few days since your ingredients arrived through the letterbox, enjoy award-winning, sustainable Fresh Beer.
Over 75% of the UK population is unaware the freshness of beer is vital to flavour. Ingredients in beer are sensitive and degrade over time. Storage, temperature changes and time all have a negative impact, so when it comes to beer, fresh is best.
A PRETTY SIMPLE PROCESS
Pinter plus Pinter Pack. That's all you need.
1. Purify the Pinter: an essential for Fresh Brewing success.

2. Add Pinter Pack ingredients and water to the Pinter. It'll take it from here.

3. Let the Fresh Beer ferment in the Pinter. It takes as little as a few days.

4. Hopper. Depending on the beer, this is when you'd use our brand new patent-pending Hopper.

5. Condition. Put the Pinter in the fridge to carbonate your Fresh Beer naturally.

6. Tap and enjoy incredible, award-winning Fresh Beer.
We call it Fresh Brewing. Simple never tasted so good.
How you use the Pinter
01
Order Pinter Pack from the Pinter app
02
Purify, add Fresh Press, add Brewing Yeast
04
Condition in the fridge
05
Tap Fresh Beer from Pinter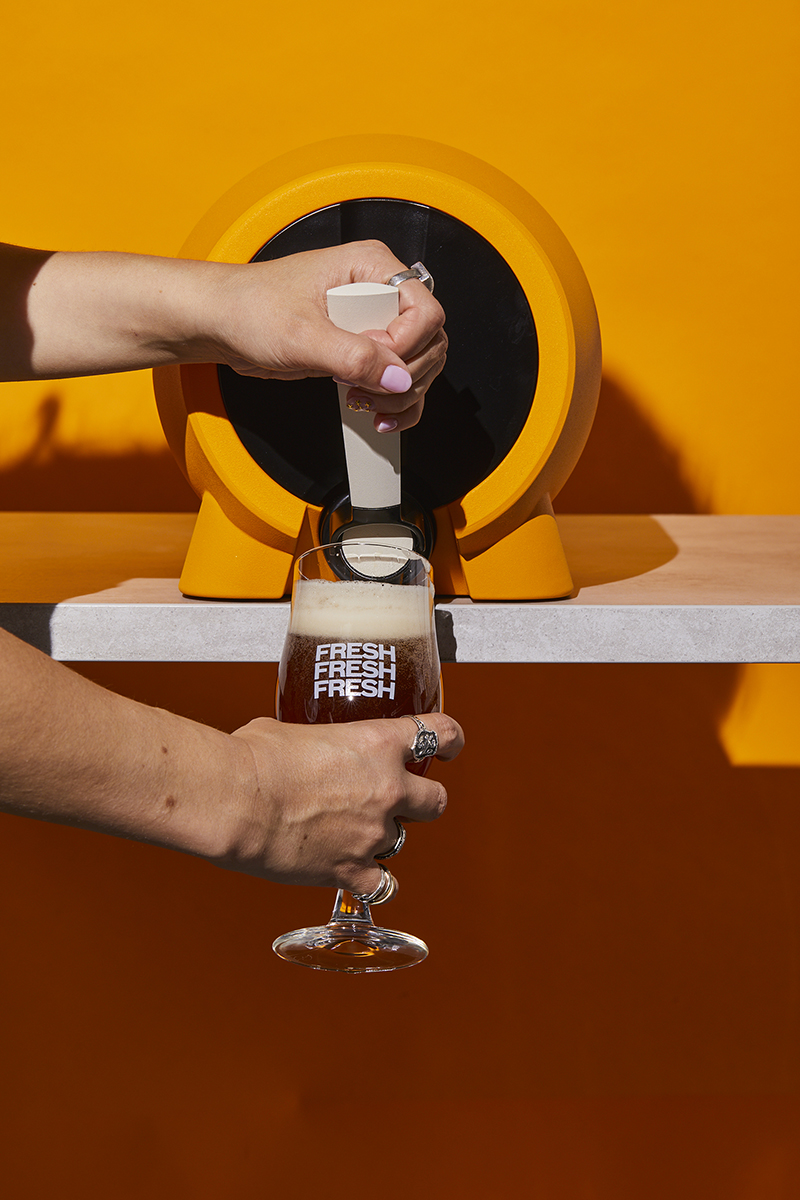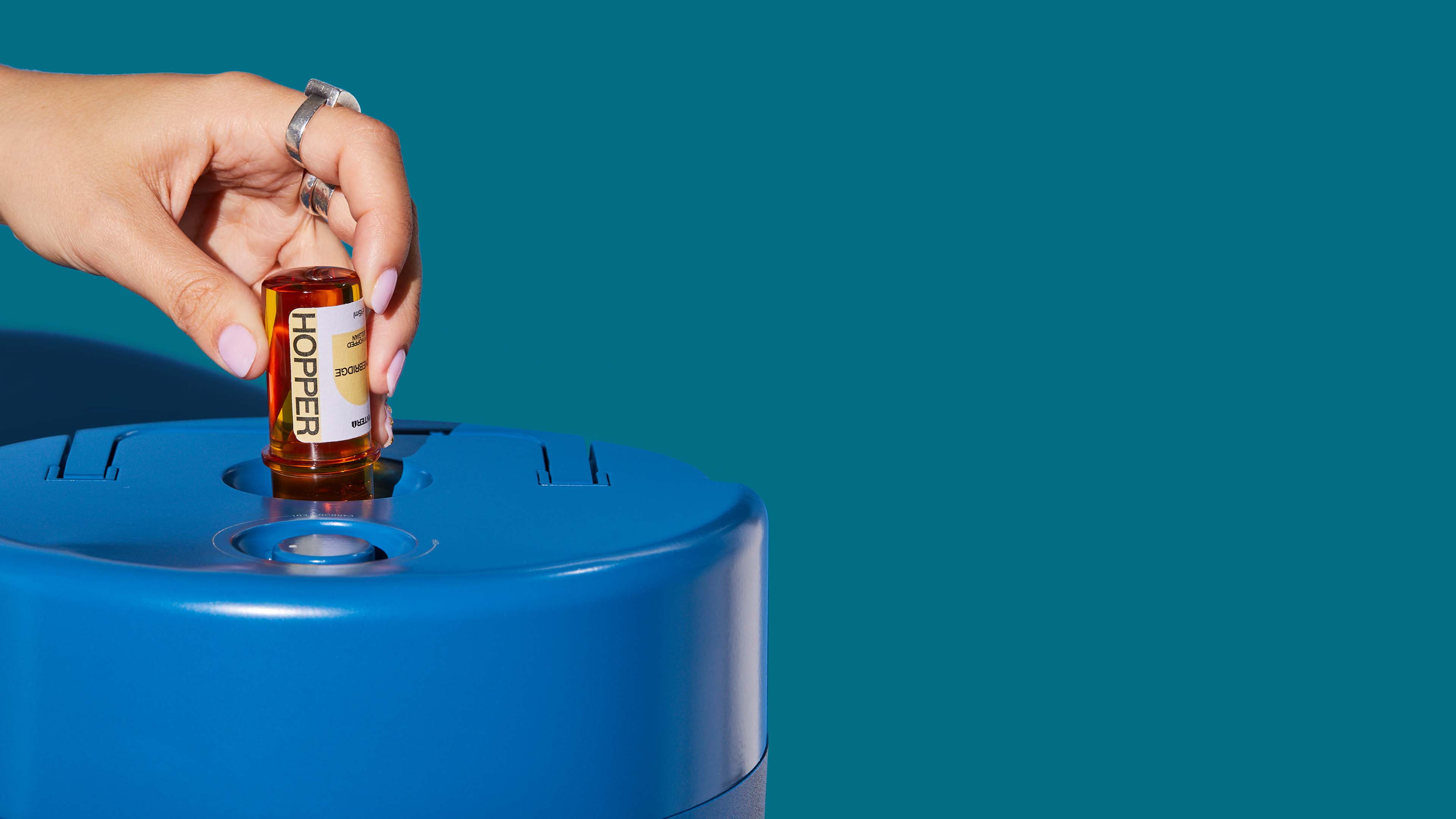 INTRODUCING THE HOPPER
A world-first exclusive for Pinter 2. Enjoy freshly-hopped beer at home, for the first time.

Hops are sensitive and ingredients in beer degrade over time. Freshness is vital to flavour.
That's where the Hopper comes in.
Add the Hopper to your Pinter during brewing and experience freshly-hopped taste like never before as a burst of aromas and flavour. Available as a new range for Pinter 2 only: Hopper Fresh Beers.
An unparalleled sensory drinking experience.
SHOP HOPPER BEERS
CO-PINTER. BREW ONE. TAP ONE.
Available exclusively to Pinter owners, the Co-Pinter means a constant flow of Fresh Beer. While you're tapping one Pinter from the fridge have another in the Brewing Dock, ready to refresh when you're done. The Co-Pinter comes without a Brewing Dock; simply use the original, don't waste excess material where it's not needed. Available for an incredible value £89, posted in minimal packaging.
BUY NOW
PINTER PACK:
THE ECO-CRATE
A Pinter Pack comes with everything you need to start Fresh Brewing - Fresh Press, Brewing Yeast, and Pinter Purifier. 10 letterbox-friendly pints through your door, whenever you want them.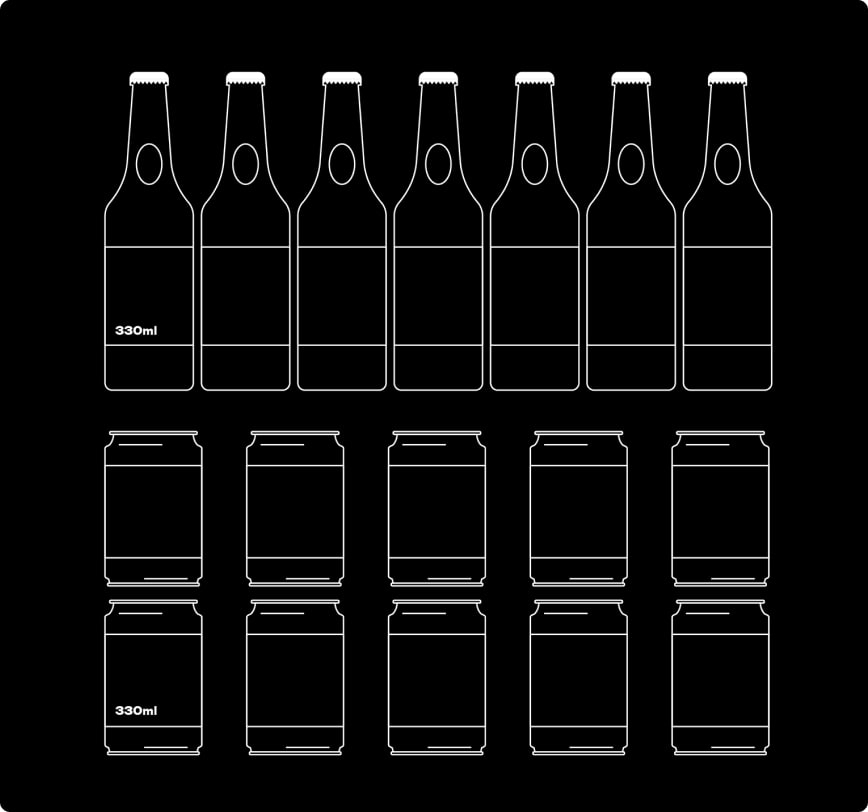 Sustainable and practical
Drinking with a Pinter means using the UK's most efficient way of delivering beer to your home. Because no water is shipped that's a vast 75% weight reduction in transit vs standard beer - so huge CO2 emissions savings are realised. A single Pinter Pack replaces 17 bottles or cans, so based on average use that means 408 fewer bottles or cans entering the waste stream annually. The Pinter is designed as a lifestyle change, and with any change of that nature - the more you do it, the greater the rewards. Better beer, better for the planet.
WHAT'S IN THE BOX?
1 x Pinter
1 x Brewing Dock
2 x Glasses
1 or 2 Pinter Packs (available as add-on purchase)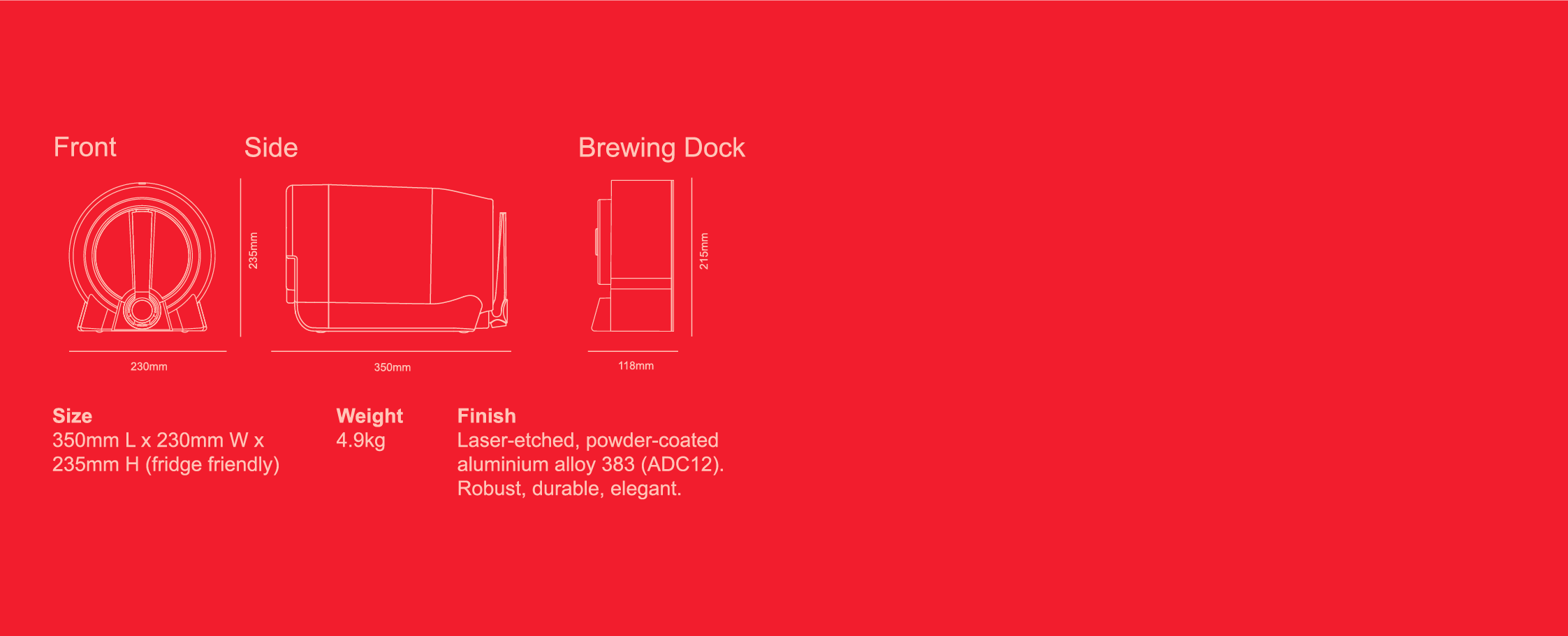 Pinter Dimensions
Pinter but not as you know it. Re-imagine, re-engineered and re-defined Fresh Brewing. From the base up.
SHOP NOW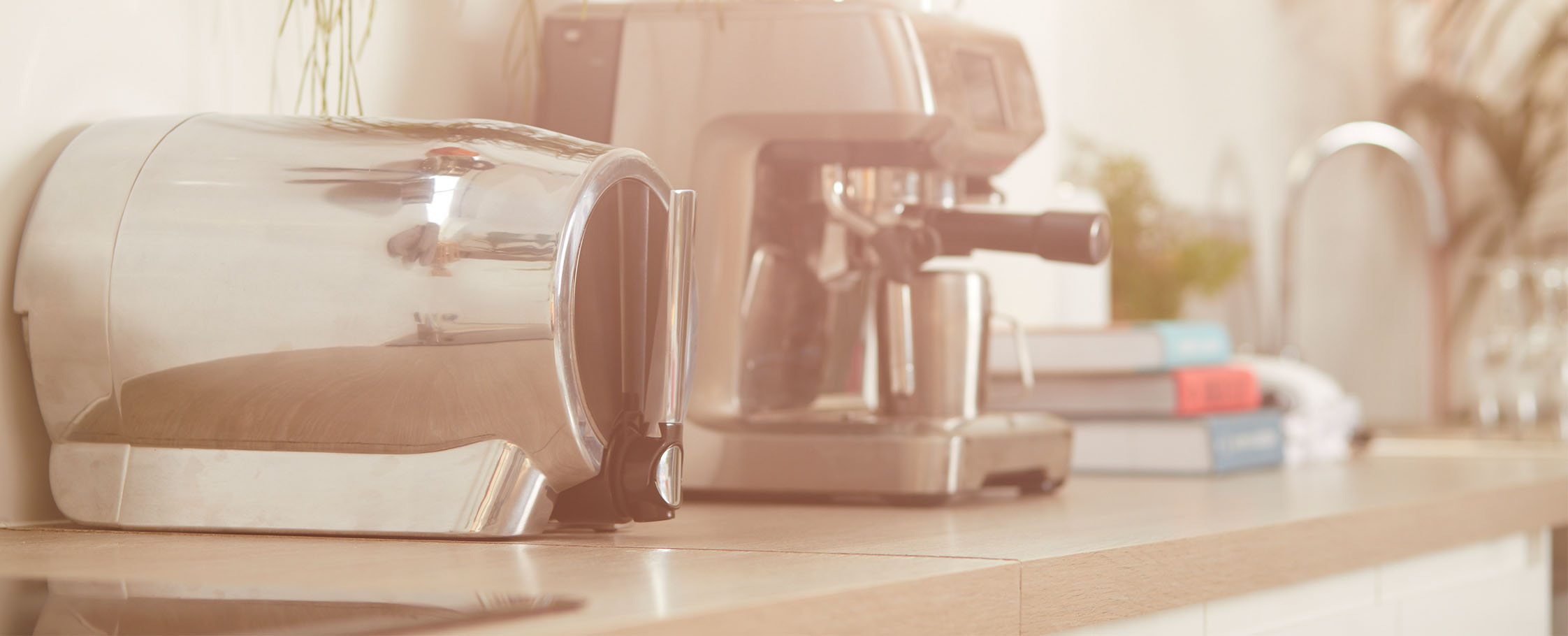 Pure Finish Pinter Exclusive to Fresh Beer Club
Can I update my account details myself?
To update your account details, head to www.pinter.co.uk and click on the account icon on the top right corner of your screen. Once you've signed in, you can edit all of your details and you can also manage any subscriptions you have too.
Why did you rebrand / is it the same company?
The same people are behind the Pinter; we're still the same company, just with a new name. Putting Pinter in the heart of the business.
How do you pronounce Pinter?
Pint-er
What is your returns policy for the Presses?
If you decide to return something to us, you will need to email in to hello@pinter.co.uk with details of your return within 14 days of receiving the product. The product will need to be unused and in its original packaging. After this return has been authorised, you have an additional 14 days to return the product to us for a refund.
What is the warranty and what does it cover?
The warranty will allow us to cover your Pinter/Co-Pinter for repair or replacement for 1 full year from the date of delivery. Not using your Pinter as directed may invalidate your warranty. You will first need to register for your warranty by getting in touch with our Community Team: hello@pinter.co.uk.
What are the benefits with Pinter 2?
Pinter 2 is a premium product end to end, built with durability in mind. The Hopper introduces freshly hopped beer at home for the first time and Fresh Dispense Technology in the tap means no need to use the carbonation dial at each pour.
The Hopper has quite a lot of plastic, this isn't very environmentally friendly
The Hopper is 100% recyclable after use.
I can't put the two halves of the tap back together
Make sure the line isn't caught and make sure the two halves are aligned correctly with the notch and indent. See the instructions for more details
I have accidentally removed the foil from my Hopper, can I still use it?
It may be a bit messy and there's a risk of losing some of the hop oils and aroma in the process, but you can try and pour the hops into the back of the Pinter and then fully screw in the Hopper to dispense.
Why does the cleaning dial need to be closed before tapping?
Opening the cleaning dial will allow the CO2 to escape, which will lead to a flat beer.
Do I need to put my cleaning dial in my Pinter 2 for the brewing?
We recommend the cleaning dial is in place during brewing - see instructions for more details
Does my Pinter come with a Warranty?
Every Pinter is has a 1 year warranty. To activate your 1 year warranty simply get in touch with our community team on hello@pinter.co.uk. Not using your Pinter as directed may invalidate your warranty.
How long does Fresh Beer last for Pinter 2?
Fresh Beer will stay fresh for up to 30 days after tapping unless the Pinter has run out of natural CO2 and the user has introduced O2.
How long does Fresh Beer last?
Fresh Beer will stay fresh in the Pinter for up to 30 days in the fridge before tapping. Fresh Beer is at its optimum quality up to 7 days after tapping, and may start to lose carbonation after this. Keeping your Pinter cold is the best way to make sure your beers stay as fresh as possible.
Do you have printed instructions?
We only offer the online instructions - we believe this offers the best experience and ensures that all of the instructions are as clear as possible. We are always happy to help talk you through any parts of the instructions over the phone, if that would help. Give us a call on: 0116 326 2768. Our phone lines are open Monday - Friday 9am to 8pm, and Saturday - Sunday 9:30am to 6pm.
Is the Pinter dishwasher-safe?
The Pinter isn't suitable for dishwasher cleaning and should only be cleaned as per the instructions.
How is Fresh Brewing more environmentally friendly?
Each Pinter Pack makes 10 Pints of Fresh Beer or Cider, the equivalent of 17 330ml bottles. By using less packaging than the beer you'd buy in a supermarket, we're able to dramatically reduce our shipping Carbon Footprint. When we ship our Pinter Packs to you, we ship without water. That means we save a huge amount of weight when we are shipping compared with delivering 17 330ml bottles or cans, and weight savings equal carbon savings.
What is the Hopper?
With the Hopper's patent-pending technology, hops are added directly into the Pinter at pressure after fermentation. Hopping at the optimum point in the brewing process while keeping all of the naturally produced CO2 in the Pinter means maximum flavour and maximum freshness.
Why do you use Metal?
Build quality and robustness means it's designed with longevity in mind. The Aluminium we use is 100% recyclable.
Why do you use plastic?
We invested a long time researching the best materials for both the Pinter and our Pinter Packs. We found that the material we eventually settled on is the most widely recycled material at this time with the lowest CO2 impact.
Can I use my own ingredients or do I need to buy any additional ingredients?
Your Pinter Pack comes with everything you need to brew 10 Pints of Fresh Beer (apart from tap water!), including Purifier, Fresh Press and Brewing Yeast.Do not use your own mixtures or add extra ingredients to the Pinter or Fresh Presses. Our Pinters and Fresh Press Packs are specifically designed to create the perfect flavour profile. Using anything other than Pinter Packs purchased from us in your Pinter will also void your 1 year warranty.
Why is the Pinter better than draught systems?
The Pinter is not a draught system, it uses world-first, precision engineered technology to allow fermentation, conditioning and carbonation within a single device.
Are any Pinter 1 and Pinter 2 components compatible?
Pinter 1 and Pinter 2 models are not compatible with each other.
What is a Co-Pinter?
Our Co-Pinters are exclusively available to Pinter owners, so that you can have a constant flow of Fresh Beer. The Co-Pinter is exactly the same spec as your original Pinter and the only thing it doesn't come with is its own Brewing Dock. You can use your original Brewing Dock to Brew one Pinter while the other one is Conditioning in the fridge, getting ready to tap.
How does a Pinter work?
The Pinter is a unique self-contained device in which brewing - from fermentation to conditioning - is streamlined without sacrificing any quality. Add water, yeast, your Fresh Press and let the Pinter do the heavy lifting before tapping 10 Pints of Fresh Beer.
What are the dimensions of the Pinter Packs?
The size of our Pinter Packs is 26cm x 19cm x 3.5cm and should fit through a conventional letterbox for convenient delivery.
What's the weight of Pinter 2?
The weight of the Pinter is 4.9kg and the weight of the brewing dock is 1.4kg. The minimum shipping weight is 10kg (Pinter + Brewing Dock + 1 Pinter Pack) and the maximum is 13kg (Pinter + Brewing Dock + 3 Pinter Packs).
What are the dimensions of the Pinter and Co-Pinter?
The size of Pinter 2 and Co-Pinter is: 35 cm L x 23 cm W x 23 cm H. The size of the Brewing Dock is 12cm L 19cm W 21cm H. The Pinter always needs to be Conditioned in the fridge so we recommend that you measure your fridge to see if it will fit.
How does Fresh Beer become carbonated?
Fresh Beer made in the Pinter is naturally carbonated with the CO2 produced during fermentation. The Carbonation Dial regulates the pressure in the Pinter during the brewing process, so your Fresh Beers and Ciders will always have the perfect level of carbonation.
Keep on top of your Fresh Beer by tracking milestones and syncing with your calendar.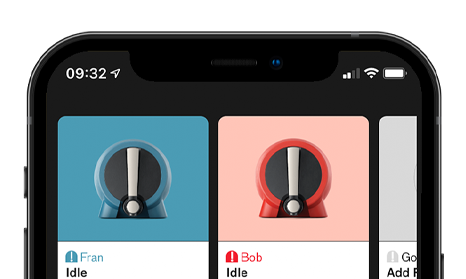 2 MILLION PINTS BREWED
See what others have said about Pinter
"Great product. Easy to use and great tasting beers!"

Rosanna H.
"This product has changed my way of brewing beyond belief."

Gary S.
"...The Pinter is absolutely fool proof and the beer is amazing. "

Robert T.
"Very simple brewing process with excellent results."

Michael F.
"Very simple brewing process with excellent results."

Michael F.
"...The Pinter is absolutely fool proof and the beer is amazing. "

Robert T.
"This product has changed my way of brewing beyond belief."

Gary S.
"Great product. Easy to use and great tasting beers!"

Rosanna H.