FRESH BEER is better beer
Fresh Beer is beer in its optimum state immediately at the end of the brewing process.
Ingredients in beer are sensitive and flavour quickly degrades after time, storage, transportation and changes in temperature.
The flavour of beer develops during fermentation, which all happens inside your Pinter. Then it's Pinter, to glass, to you. Incredible flavour as it was intended. How refreshing.
Shop Now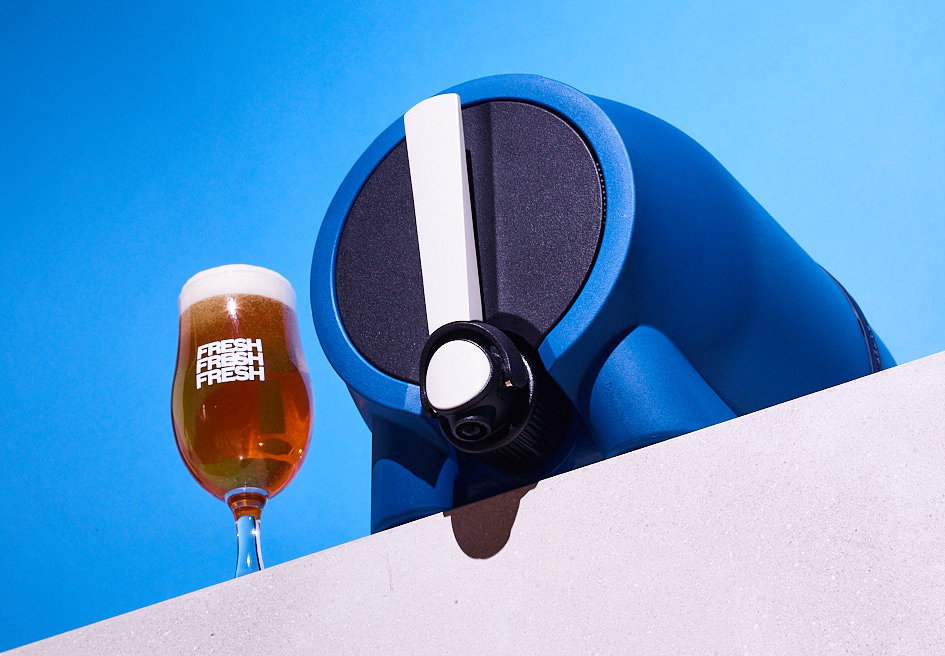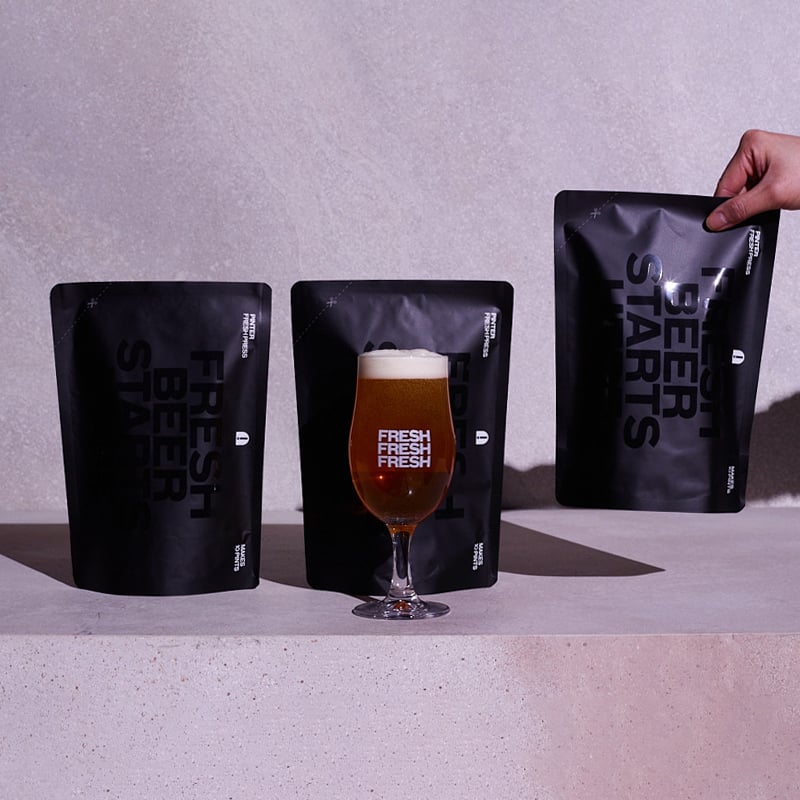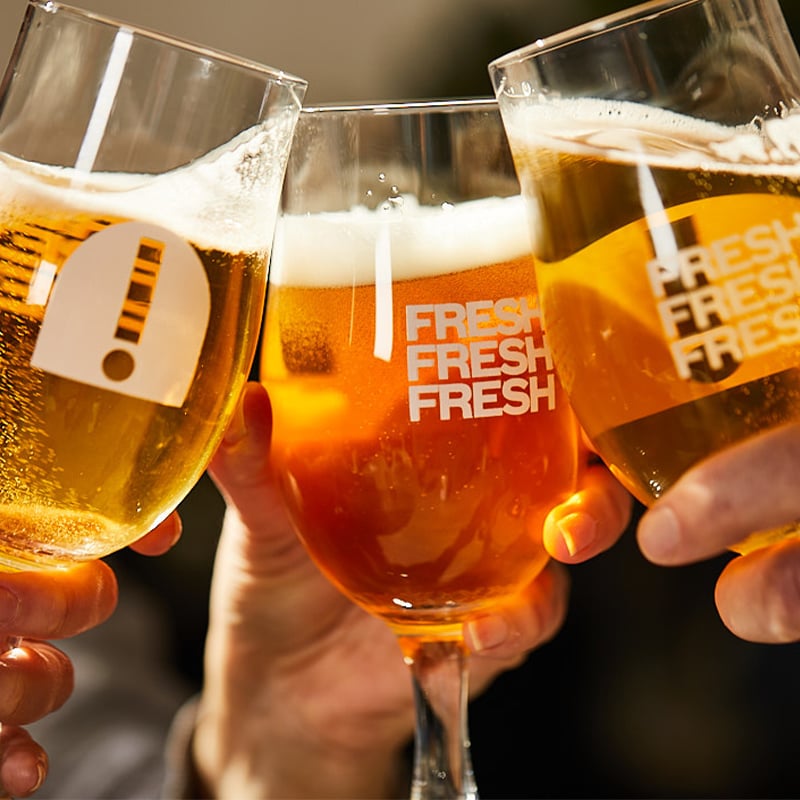 WHAT IS A FRESH PRESS?
Fresh Presses are the craft behind Fresh Beer.
A hand-selected blend of quality ingredients; water, malt, and hops or fruit. This mix captures the ingredients at the optimum point for consistent Fresh Brewing.
Our team of passionate brewers ensure your Fresh Presses are prepared to the highest standard from meticulous malting, kilning, milling, mashing, and blending; all the way to getting it to your home.
Using our Fresh Presses, the Pinter makes a wide range of award-winning Fresh Beers and Ciders including IPAs, Lagers, and Fruit Ciders.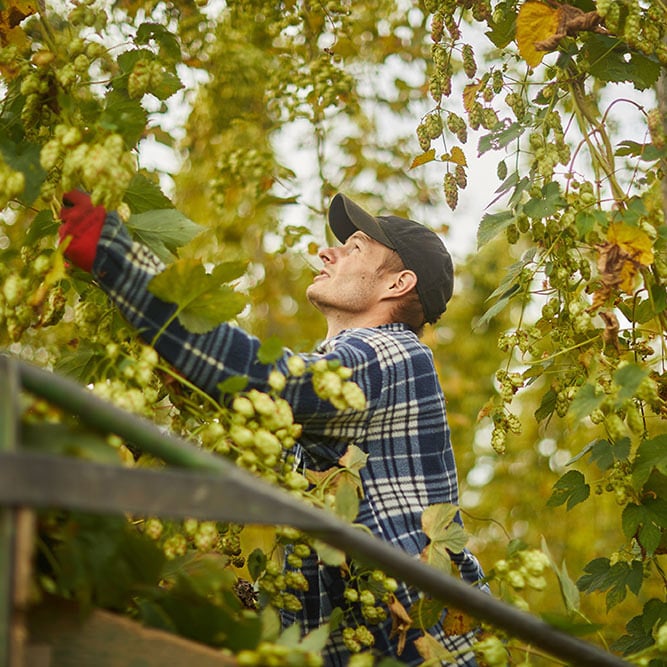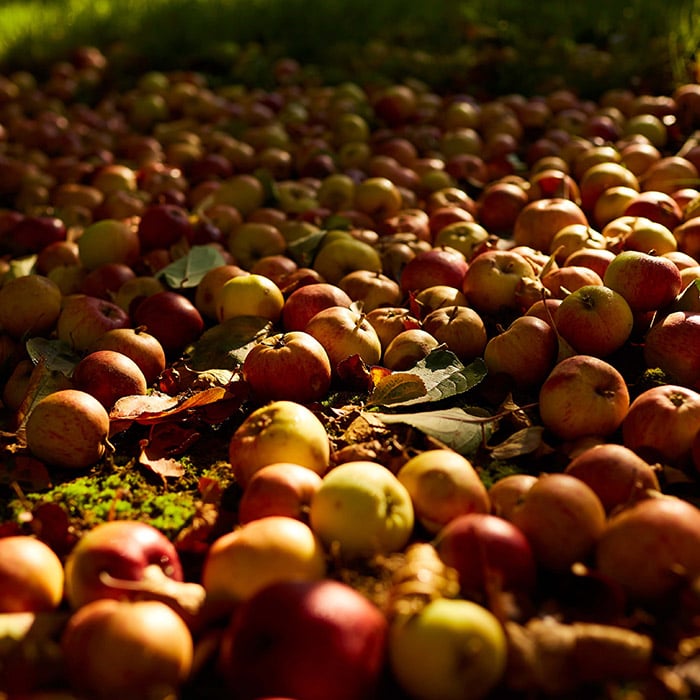 FRESHER INGREDIENTS, FRESHER BEER
Hops from Kent, malt from Suffolk. Chosen for their distinctive flavour, the 100% natural oil extraction process of our hops means they keep their full aroma and taste. Hoppy bitterness brings balance to our malt's sweetness; perfectly partnered for piney, earthy profiles.

ABC: apples best for cider. Bittersweet and from the acclaimed orchards of Herefordshire, the apple variety we selected for our cider brilliantly blends sweetness and acidity. Hazy, aromatic, and frankly, delicious.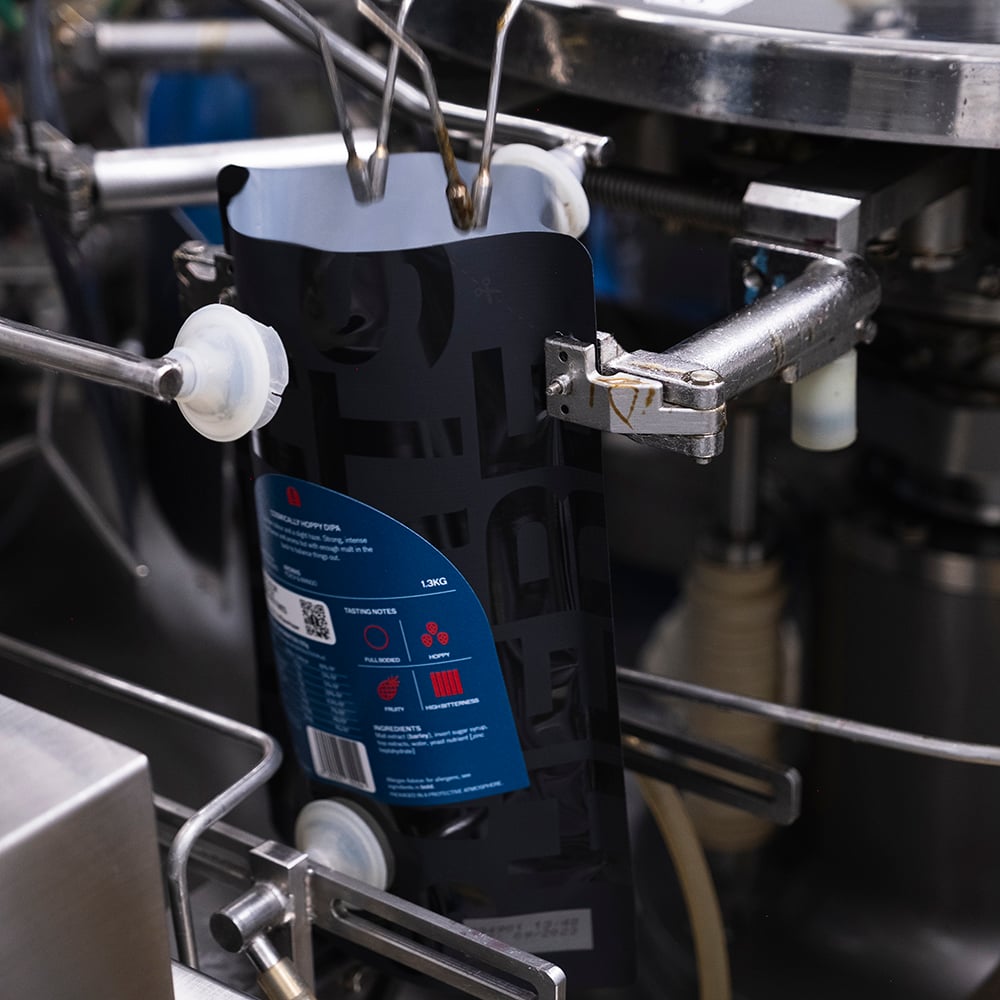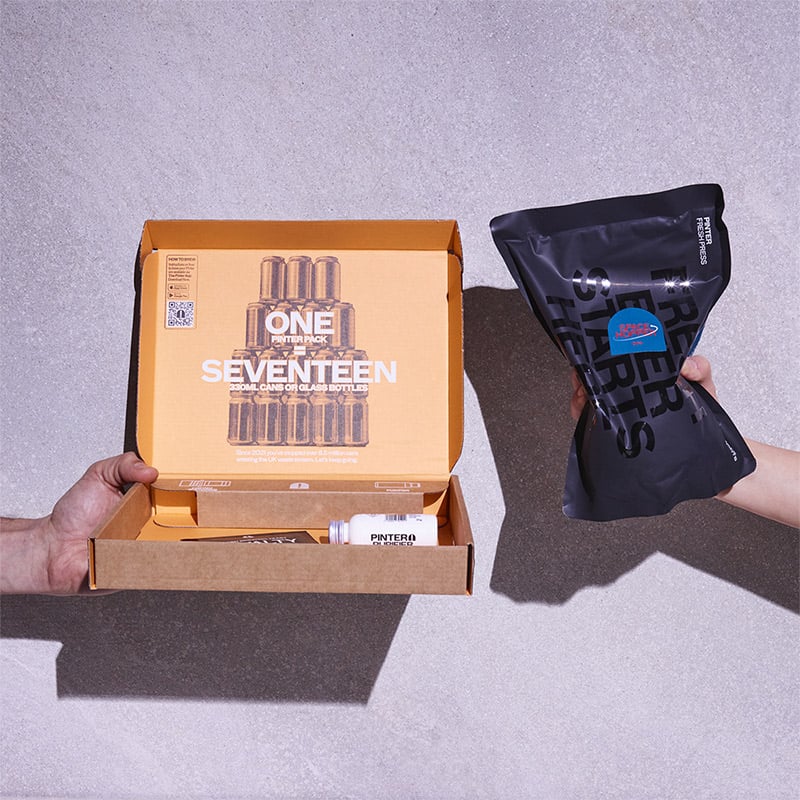 FRESH PRESS PACKAGING
High quality and sustainable, we've developed our Fresh Press packaging to deliver you the best brewing experience. It's easy to squeeze out every last drop and get consistent results from ingredients packaged in a low-oxygen environment. Our filling machine nitrogen flushes, keeping oxygen (the enemy of yeast and beer) out. This is also how we can ensure its 9-month shelf life (in a cool, dry place).

With sustainability in mind, Fresh Presses were designed to ensure we don't waste water or emit more CO2 than necessary when transporting them. Stay tuned for recyclable Fresh Press packaging in 2023!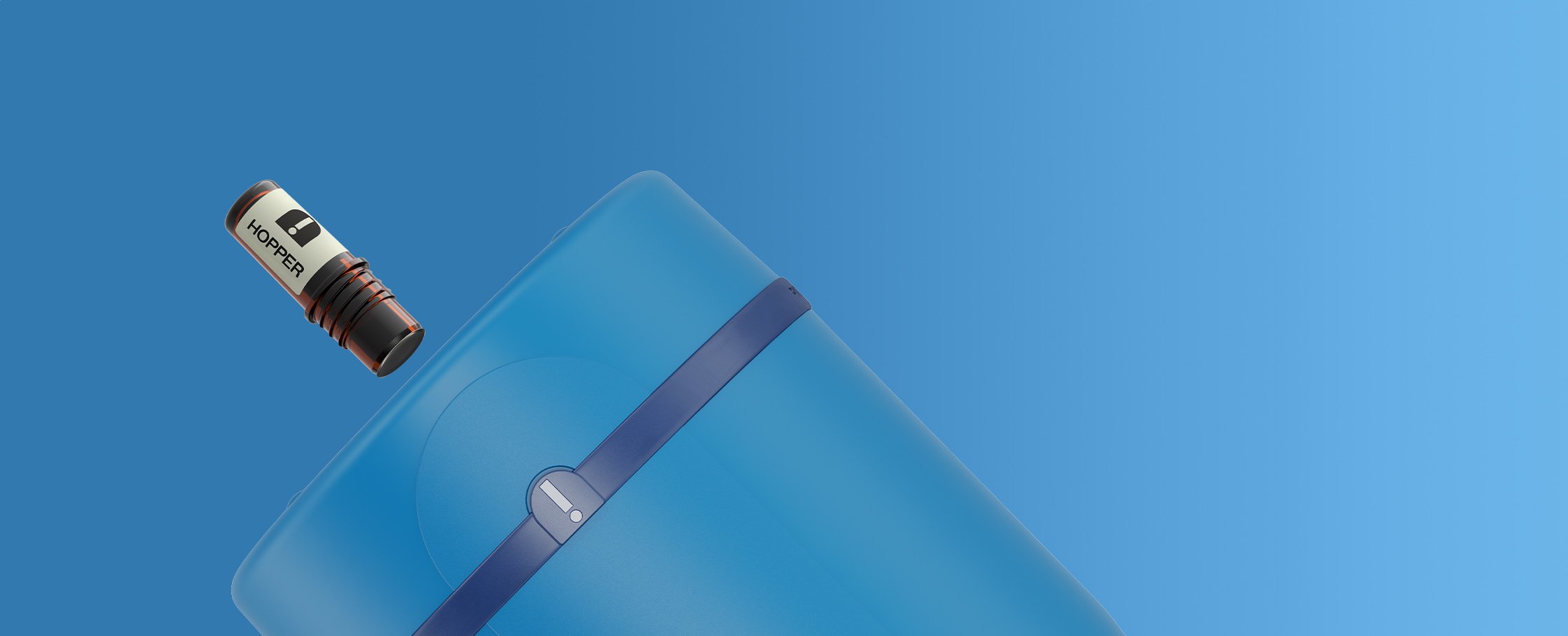 INTRODUCING THE HOPPER
Patent-pending technology allowing you to enjoy freshly-hopped beer at home, for the first time.

Hops are sensitive and ingredients in beer degrade over time, impacting flavour. Add the Hopper (from a Pinter Pack - beer style dependent) to your Pinter during brewing and for a freshly-hopped sensory drinking experience.

A select range of Fresh Beers come with a Hopper, check the shop page below to discover more.
SHOP HOPPER BEERS
BETTER INGREDIENTS. BETTER BEER.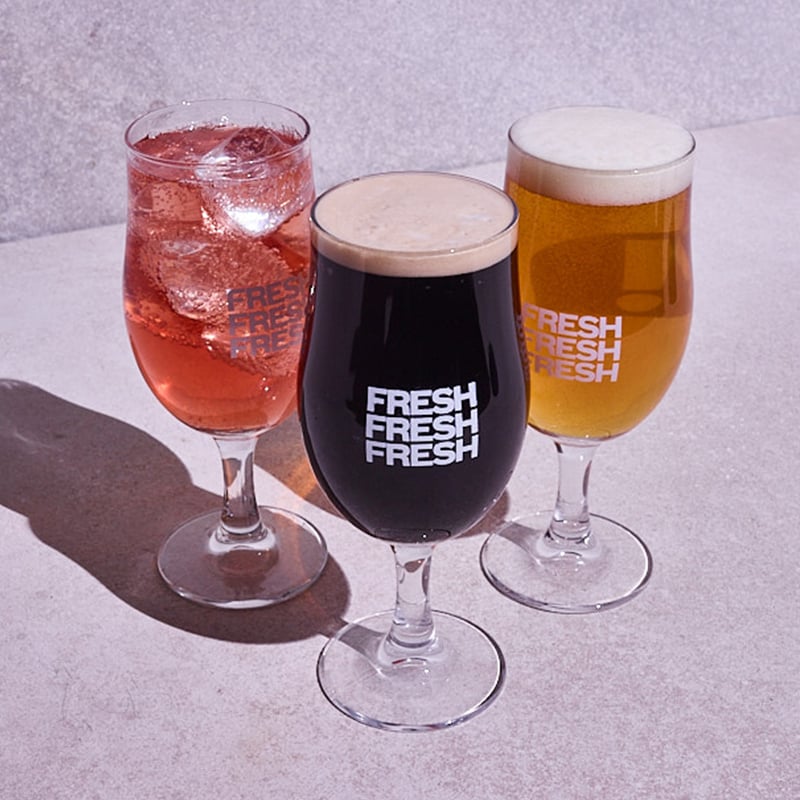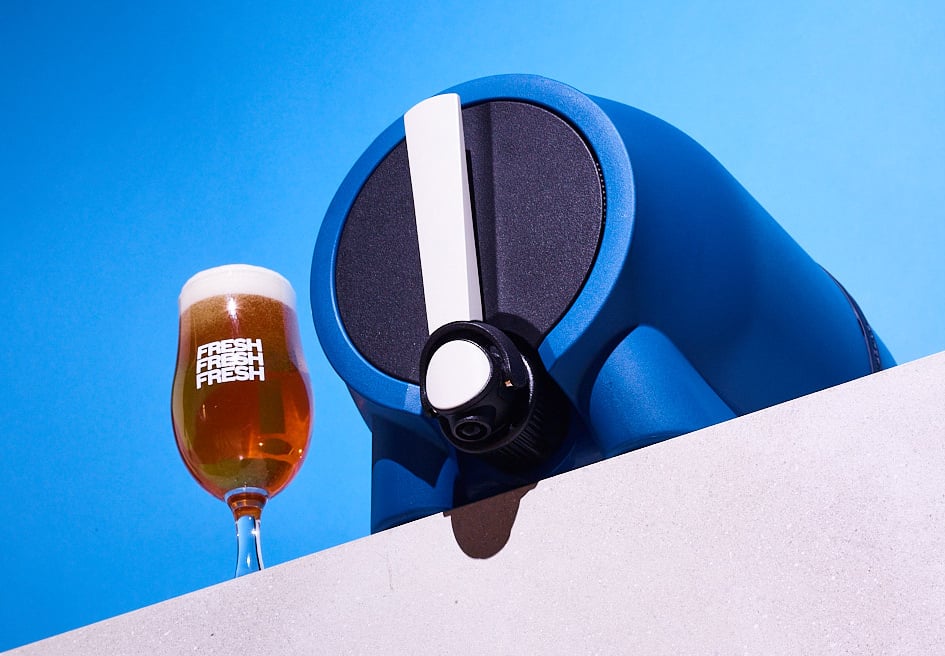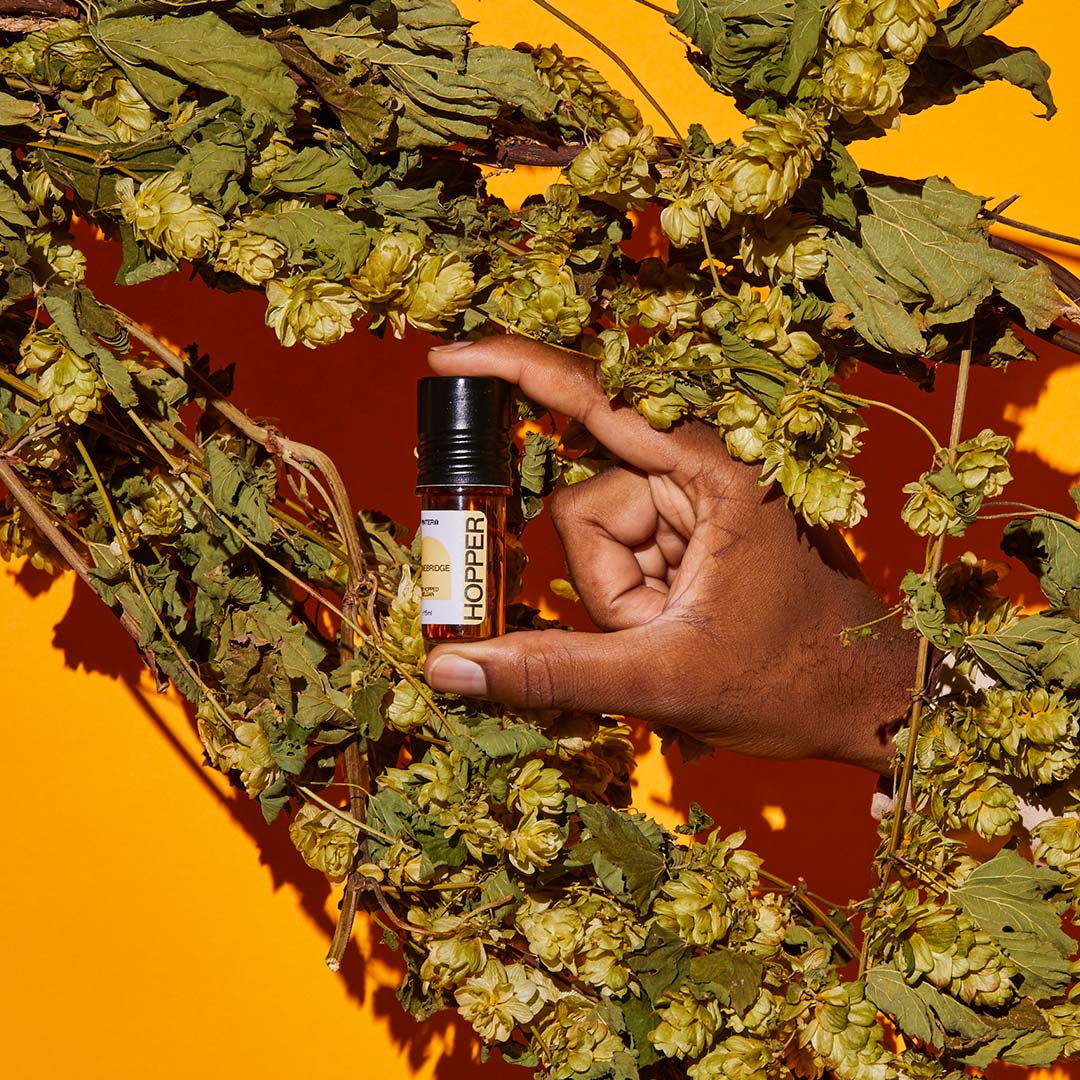 FRESH BEER TO YOUR HOME MONTHLY
Lock in your supply and receive a host of member benefits
Save up to £200 per year
Free shipping on Fresh Beer
£20 off a Co-Pinter
Pause, skip or cancel at any time
JOIN TODAY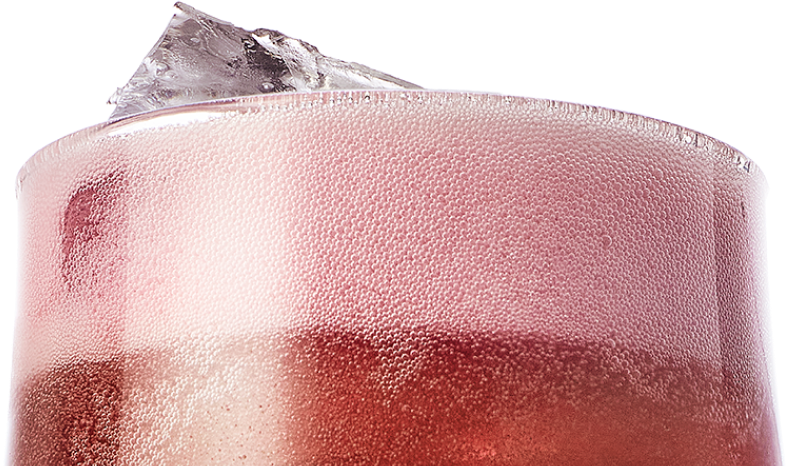 Why has my Fresh Press Best Before been relabelled?
You may occasionally notice that your Fresh Presses have new Best Before labels.
Our mission is to build an innovative, sustainable and social world of Fresh Beer. To make sure that we can confidently stand by this mission, this is just one of the steps we have put in place to be more sustainable.
We always try to ensure that we have enough Fresh Presses lined up and ready. This means that sometimes we make too much. However it's completely unnecessary for Fresh Presses that are still fresh, to see the bin just because their best before dates have come around. To combat this, we'll be retesting Fresh Press stock before their Best Before date comes around. They'll go through the exact process as a newly made batch, testing the sensory quality and the micro levels in our lab, ensuring they are safe to brew. All Fresh Presses that pass our Fresh Test will go back on sale with a new Best Before date. So, if you receive a Fresh Press through your letterbox that has a 'This Fresh Press has been retested and relabelled' label, you know that it has been saved from being unnecessarily wasted and it's good to get started in your Pinter.
Is the Purifier safe?
The Purifier is completely safe to use as directed but can be harmful if consumed in its concentrated form – please refer to the product label for more information.
Why don't all the Fresh Presses come with a Hopper?
We have 2 ranges of Fresh Presses: Hopper and Classic.Hopper Fresh Presses are only compatible with Pinter 2 and there are still many Pinter 1 owners brewing Fresh Beer.
How long does Fresh Beer last in the Pinter?
Fresh Beer will stay fresh in the Pinter for up to 30 days in the fridge before tapping. Fresh Beer is at its optimum quality up to 7 days after tapping and may start to lose carbonation after this. Keeping your Pinter cold is the best way to make sure your Beers stay as Fresh as possible.
How do I store my Fresh Press and Pinter Pack contents?
We recommend storing your Fresh Press, Yeast and Hopper in the fridge. 
Keeping your Pinter Packs in the fridge until you use them will help to maintain the overall shelf life of each pack and will guarantee the ultimate freshness of your Brewing Yeast, Fresh Press and Hopper. For best results, remove your Fresh Press from the fridge 1 hour prior to brewing to enable it to reach room temperature. This will make sure that the ingredients blend better and ultimately brew better.
How long will my Fresh Press last?
Fresh Beer means flavour and flavour develops during fermentation. The enemies of beer; light, time, oxygen, high storage temperatures have a chance to strike in packaged beer post-brewing. We use best before dates on our Fresh Presses to help manage stock. Whilst we do suggest using it sooner, as long as the Fresh Press is stored in the right conditions (cool temperature and not in direct sunlight) it will keep for longer.
Are the Fresh Presses gluten-free?
Our Ciders are gluten-free, but are made in an environment that handles gluten.
Is Fresh Beer vegan/vegetarian?
Yes - all our Fresh Presses are 100% vegan and vegetarian friendly.
What is the ABV of the Fresh Beers and Ciders?
The ABVs of our Fresh Beers vary from 3.8% to 7% depending on the Style. You can find the ABV of specific Fresh Beers here: Fresh Beers.
Keep on top of your Fresh Beer by tracking milestones and syncing with your calendar.